After about two months in the bottle, it's about time to write out some tasting notes for this batch, which is my first time brewing Demeter Automne, a fall saison (
recipe
). I'll say that early on, I thought the finish was too biscuit-heavy, but that character has certainly died down over the past month, and is now just about where I want it.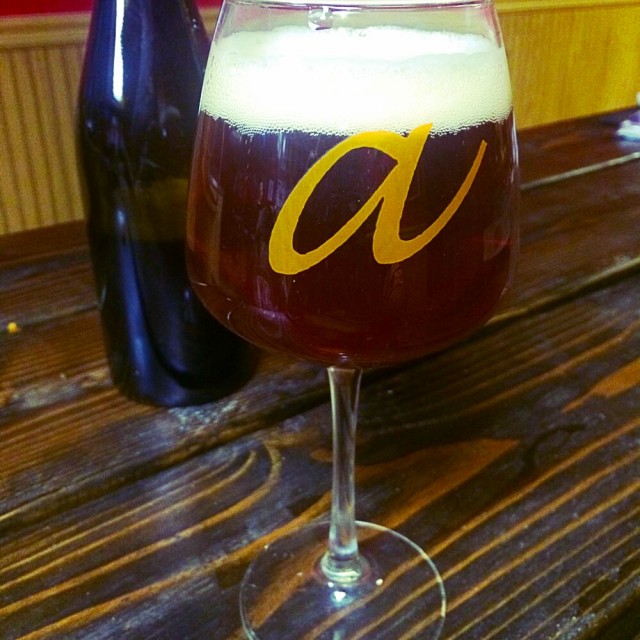 Appearance: Medium to dark amber with a puffy light tan lasting head. Fairly clear.
Nose: Toasty biscuit alongside faint pumpkin spice. Earthy and leafy. I think the combination of light spicing and Willamette at flameout got me what I was looking for -- something that isn't too heavy in any one direction, but is instead just reminiscent of fall.
Taste: Earth and toast with a bit of fall spice. Nothing stands out too much. Some pumpkin in the background as it warms. I'm glad that I used fresh-roasted (then frozen) pumpkin in this recipe, as I think the squash flavor does actually come through. Some light funk on the backend, alongside a faint acidity.
Mouthfeel: Dry finish, though the body itself isn't too light. Carbonation just where I want it for a darker saison. Easy drinking without any one element becoming too dominant. Light tartness through the finish.
Overall: For a first attempt, I'm quite happy with this one. I'm not sure there's anything that I would change up too much. Next year, I think I may increase the Willamette addition at flameout just a bit, adding a bit more of the leafy/earthy character that I really like in this beer. As mentioned above, at first I thought the biscuit malt was too much, but I think after a month of being fully-carbonated, that character is just about where I want it.
Now that I have the base recipe down, I think I'll likely do a few batches of this next year, as I'd like to try a few "barrel-aged" variants. I'm most interested in trying a version with wine-soaked oak cubes, and then another version with brandy-soaked oak cubes.