This was my second time brewing Demeter Sinis. The
first time
I brewed this beer was nearly a year ago. Overall, I was quite pleased with that batch, and still have a few bottles left. My one complaint is that while I like what the blend of mixed-ferment saison dregs has done to the beer over time, the body has gotten a bit too thin. To counteract that, this time I'm adding some additional chloride and sodium to the beer to emphasize the malt a bit more, and have also upped the mash temperature a bit to see if I can retain a bit more body.
Finally, last time I aimed for 3 volumes of CO2, and that made the mouthfeel a bit crisper than I would like. While I think I'll be kegging most of this batch, I'll likely go down to 2.5 volumes, a target I'll probably stick to in the future when conditioning dark saisons, and keeping the 3.0+ volumes solely for blonde saisons, and particularly ones with Brett.
I also have a few more ideas for this beer, including a version aged on red wine-soaked oak cubes. Since my mash tun can only handle about 20 pounds of grain, my limit for this run is about 7.5 gallons. I decided to do 5 gallons with pomegranate, and then do 2.5 gallons on the side with cranberries. Soon enough, I'll do a thicker mash to see if I can get to 10 gallons and do half straight and half with red wine oak cubes.
Winter brew day. Photo courtesy of Thorpette.
The recipe for the full batch is as follows:
Batch Number: 74
Brew Date: December 14, 2013
Bottle/Keg Date:
Batch Size: 7.5 gallons
OG: 1.065 (estimated)
FG: 1.004 (estimated)
Fermentation Temperature: 65* F
IBU: 31.7
ABV: 7.8% (est.)
SRM: 24.5
Mash: Single infusion for 60 minutes at 153* F.
Boil: 60 minute
Fermentables
7.5 lb Briess 2-Row
4.5 lb White Wheat Malt
3.0 lb Wheat, Flaked
1.0 lb Acidulated Malt
12oz Wheat, Torrified
8oz Oats, Flaked
8oz CaraMunich
4oz Chocolate Malt
Salts & Water
8.0g Calcium Chloride (all added directly to the kettle)
7.0g Baking Soda (all added directly to the kettle)
2.0g Gypsum (all added directly to the kettle)
All of the salts are added directly to the kettle to achieve the ultimate water profile that I am looking for. Acid malt is being used to get the mash pH where I want it.
Resulting water profile (based on EZ Water Calculator v3) is as follows:
Mash pH (est.): 5.35
Calcium: 89
Magnesium: 12
Sodium: 47
Chloride: 95
Sulfate: 51
Hops
2.0oz Willamette (7.5 AAU), leaf, at 60 minutes
1.0oz Willamette (7.5 AAU), leaf, at flameout
Other
Whirlfloc (2) at 10 minutes
1.5 tsp. Wyeast Yeast Nutrient at 10 minutes
6g Lavender, dried, at flameout*
2.5 pounds of pomegranate juice and seeds,
along with a glass of Demeter Sinis (Batch 01)
1.0g Black Cardamom, at flameout
Pomegranate for 5 gallons of the batch. For this, I took the seeds and juice from 10 pomegranates, which came to about 2.5 pounds of fruit/juice.
Cranberries for 2-2.5 gallons of the batch. I juiced the cranberries, which yielded approximately 300mL of juice.
Both types of fruit were added to primary, with the pomegranate going into the bucket with 5 gallons, and the cranberries going into the 3-gallon Better Bottle.
* I wanted 20g of Lavender, but ran out. I ordered more for the straight batch that I'll do in a few weeks. I'm not as worried about this batch, since the fruit will provide plenty of background.
Yeast
Blend of Wyeast 3725, Crooked Stave, and miscellaneous mixed-fermentation saison dregs using the cake from
Demeter Spectre.
I also added the dregs from a bottle of the first batch of Demeter Sinis.
12.14.2013: Gave the smaller portion 30 seconds of pure O2, and the larger portion got 60 seconds. The gravity was lower than expected, coming in at 1.055. I'm guessing this goes back to the sparge, where I was in a bit of a hurry due to the chilly weather and snow, which created additional obligations. For yeast calculations, I kept the gravity at 1.065, as I'm not sure how high the fruit took each batch.
Based on Mr. Malty's calculator, I used 110mL of the Farmhouse Mild cake for the 5 gallon portion, and 45mL of the Farmhouse Mild cake for the 2 gallon portion.
12.15.2013: Strong fermentation for both portions of the batch. Each one sitting at about 65* F. As you can see in the picture below, the critters have already sucked the pomegranate seeds dry and they've been taken up into the krausen:
01.25.2014: Bottling day for the cranberry portion. The pomegranate portion previously went on draft. I haven't done a separate write up for it as of yet, as I feel like the pomegranate just added a bit of tartness, and the blend I'm using already adds some tartness, so it's difficult to tell it's there. One thing is that as the beer warms, there is a slight hint of the pomegranate membrane, some of which inevitably got into this. If I was doing this again, I would definitely use either pomegranate juice (store bought or self-juiced), as that would be quite a bit easier, even though it was cool watching the yeast strip away all the flesh from the pomegranate seeds.
Cranberry portion bottling: Two and a half gallons. FG of 1.006. Final pH of 3.5. Aiming for 2.75 volumes of CO2. Added sugar directly to bottles, uses 5.5g for each 750mL bottle and 2.75g for each 375mL bottle. Ended up with ten 750mL bottles and three 375mL bottles.
One thing to add is that this was also my first chance to use my custom "ambrosia" caps, which Amy got me for Christmas: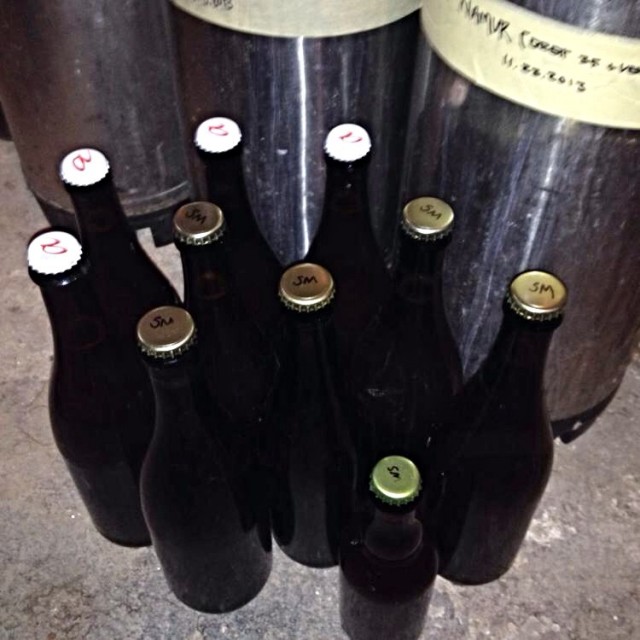 Difficult to see, but ambrosia "a" logo caps on the left.