Saison Faible
is the clean petit saison that I brewed for the first time recently, using solely Saccharomyces as opposed to the blend of Saccharomyces, Brettanomyces, and bacteria that is used in my rustic saison,
Farmhouse Mild.
Of course, I can never entirely get away from wild fermentations, so I took the other 5-gallon portion of this batch and fermented it with
Ambrosia Blend 003
, which utilizes the grown up dregs from a bottle of the November 2013 batch of
Hill Farmstead Anna
.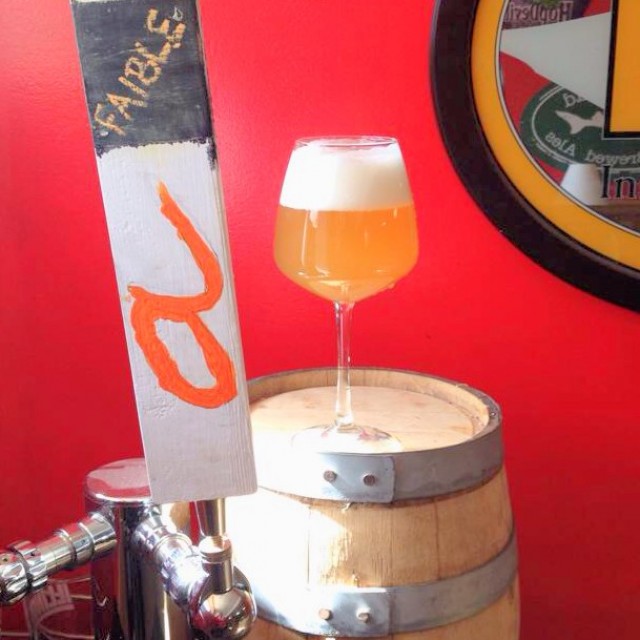 Appearance: Hazy golden color with just a touch of a peach hue. Dense, rocky white head with good retention and plenty of lacing as it fades down to a thin cap and collar.
Aroma: Slight tropical fruit notes along with some bread dough. A very slight hint of bubblegum. Some mild pear and honeydew.
Flavor: Juicy Fruit is what immediately comes to mind for me. Tropical fruit and very light orange peel in the background. Honeydew and melon. A touch of pepper and a very mild lingering bitterness in the background. Dry with a hint of tartness through the finish. As it warms, there's a touch of bread dough in the background. I've noticed quite a bit more of the bread dough if I have nearly any other beer ahead of this one.
Mouthfeel: Light with effervescent carbonation. Just enough body to keep it from seeming thin. A slight lingering bitterness through the finish. Very faint pepper in the aftertaste.
Overall: I'm very pleased with how this one came out, especially with it being my first time using this strain/blend. I'm very curious to see how this is going to perform in subsequent generations, as well as with a bigger beer. I of course had to mix it with something wild, so I am already using the second generation of this blend, combined with Brett C and Brett Trois, in the new batch of
Demeter Auran
.