Now that my keg for this blend kicked yesterday, I figured it was about time to put up some tasting notes. First, a bit of background on the beer, which is the third "
Science & Art
" installation, a series of blended saisons. The
first
was a blend of approximately 85% Farmhouse Mild and 15% Citrine, and the
second
was a similar blend of Dionysus #2 and Citrine. The series has really inspired me to make sure to keep plenty of extra beer on hand in kegs for future blending, though I may also look at putting portions of batches that are promising for future blends into 1-gallon jugs. I've already started to ensure that I'll have plenty of Citrine on hand at all times for future blending, and -- of course -- enough for blending multiple batches of Citrine and aging some on fruit. (Michigan tart cherry version coming soon.)
For this one, all of the components of the first two were involved in different ratios, and I also added in Demeter Passion, which is a portion of a recent
Demeter Auran batch
aged on passion fruit puree. I started with a keg of
Farmhouse Mild
, and it made up approximately 50% of the blend. From there,
Citrine
made up about 20%, with Dionysus #2 (aged version of
this batch of Namur
) and Demeter Passion each filling out 15% each for the remainder. I blended this directly into the keg of Farmhouse Mild that I had around, as I was looking for something unique to submit to a
TalkBeer saison homebrew competition.
The results of that should be coming in soon enough, and I'll make sure to post some outside feedback once I have that.
Unfortunately, I didn't take any photos of this one, so the best I've got is a photo from a friend's Untappd checkin: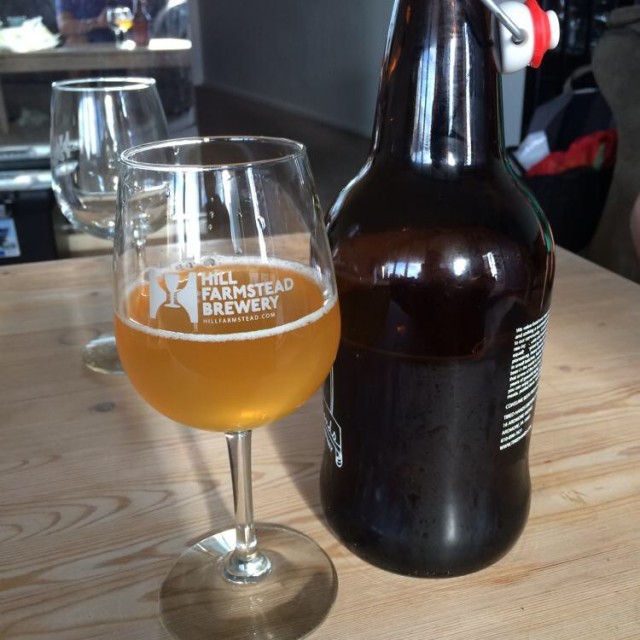 Appearance: Mostly clear with a bit of haze. Pale golden color with an orange tint. High level of saison carbonation leads to great retention with plenty of lacing on the way down. (Unfortunately the above doesn't capture the usual form with a pour out of a growler that I had filled straight from the tap.)
Nose: Passion fruit and orange zest up front with a light acidic bite. Very mild hints of oak with a bit of grain in the background. Brett-related notes of mango and pineapple as well. Pretty balanced with nothing standing out too much, though it's surprising how much passion fruit came through given that (1) Demeter Passion wasn't too heavy on the passion fruit and (2) that it comprised only about 15% of the blend.
Flavor: Quite similar to the nose, with the Brett-derived tropical fruit taking a more prominent role, though passion fruit is close behind. A bit of citrus zest along with a mild funk, which appears here quite a bit more than in the nose. Reminiscent of some of the character I often get from Crooked Stave beers, which makes sense as those dregs were used in a few components of this blend. Just a bit of oak in the background as well. Very light acidity, coming through more in the finish than as a substantial flavor component (just where I like it).
Mouthfeel: Light and crisp, though a decent enough amount of body coming from all the adjuncts used in many of the underlying beers, as well as the oak component coming from Dionysus #2. Quite easy drinking, and was perfect for the first half of summer. Light funk and acidity made this complex enough without being overpowering. This probably explains why I went through the keg so quickly.
Overall: I was extremely pleased with this beer, and plan to blend something similar in the future. I'd like maybe just a touch more oak in a future blend. My only knock on this was that as it warmed, I could get just a hint of malt oxidation, which is likely because the Demeter Passion that I used came from bottles that I very gently poured into the keg to top off the blend after flushing the headspace with CO2. While I was careful, I'm sure there was some oxygen pickup.
As mentioned above, in the future I'm hopefully going to keep around extra portions of miscellaneous beers in kegs or carboys so that I can blend easier. Also, next time I'll definitely have to finish blending in a bottling bucket so that I can more accurately measure components and anything from bottles can be poured with the neck fully-submersed in the liquid. Since this one was a bit on the fly and in a bit of a rush, that didn't happen here.
Finally, Science & Art #4 should be coming up soon, using
Demeter Vert
as the base.
UPDATE: This beer
won
the above-mentioned TalkBeer Homebrew Saison Competition.
Here is a link
to the scoresheets that I received.